The Team
Mary Mazzio
Writer/Director/Producer
Mary Mazzio, an award-winning documentary film writer/director, Olympian, and former law firm partner, is Founder and CEO of 50 Eggs, Inc., an independent film production company. Mary wrote, directed and produced the highly acclaimed award-winning films, TEN9EIGHT, Lemonade Stories, Apple Pie, A Hero for Daisy, and We Are BlackRock. She has in production Contrarian, due out at the end of 2012.
TEN9EIGHT was theatrically released in a first-of-its-kind partnership with AMC Theatres (in New York, LA, Washington DC, Boston, Chicago, Atlanta, Miami and Kansas City), and broadcast on BET/Viacom, coinciding with the release of a companion book to the film from Scholastic and a screening at the White House Summit hosted by the US Department of Education and the Library of Congress.  New York Times Columnist, Tom Friedman, said this about the film:  "Obama should arrange for this movie to be shown in every classroom in America. It is the most inspirational, heartwarming film you will ever see." 
A Hero for Daisy was hailed by The New York Times as a "landmark film" and "fantastic" by Sports Illustrated; "remarkable" by NPR; aired nationwide on ESPN, Oxygen, WGBH, and WTSN-Canada; was invited to screen at the Smithsonian, and is in thousands of classrooms across the country. Apple Pie aired nationwide on ESPN to critical acclaim, and was called "illuminating – told with deftness and emotion … priceless" by The New York Times; "fantastic" – NPR, and "excellent" – CNN. For more about Mary's work, please visit www.50eggs.com.
Laurie Tisch
Executive Producer
Laurie M. Tisch is the President of the Laurie M. Tisch Illumination Fund, a charitable enterprise that builds on a longstanding commitment to enable more New Yorkers to take advantage of the rich opportunities that the city has to offer. Ms. Tisch is the Chair Emeritus of the Center for Arts Education (CAE), where she led a mutli-million dollar fundraising campaign that resulted in an investment of nearly $40 million in arts education programs in New York City schools. Ms. Tisch is also Chair Emeritus of the Children's Museum of Manhattan where she set its vision and ethos and where she is working with the Board to expand programming and sites throughout New York City. In addition, Ms. Tisch sits on the Board of Trustees and Executive Committee of the Whitney Museum of American Art; is Chair of the Development Committee and Vice Chair Board of Directors, Lincoln Center for the Performing Arts; and is Vice Chair of the Board of Trustees at Teachers College, Columbia University. Ms. Tisch is also a member of the Board of Directors of the New York Football Giants, the NFL team co-owned by her family. Ms. Tisch is a recognized leader and recipient of many awards for public service.
Christine Vachon
Producer
One of the most influential producers in the independent film industry, Christine Vachon was behind many of the groundbreaking indie films of the 1990s including Todd Haynes' controversial first feature, Poison, which was awarded the Grand Jury Prize at the 1991 Sundance FIlm Festival. Since then, she has gone on to produce many acclaimed American independent films including Far From Heaven starring Julianne Moore (and nominated for four Academy Awards), Boys Don't Cry starring Hilary Swank (Academy Award winner), KIDS, One Hour Photo starring Robin Williams, Hedwig and the Angry Inch, Happiness starring Philip Seymour Hoffman, Velvet Goldmine starring Christian Bale, I Shot Andy Warhol, Go Fish, Swoon, I'm Not There, Gigantic, Cracks, and Cairo Time. Her most recent project is a five-part HBO mini-series adaptation of James M. Cain's 1941 novel, Mildred Pierce, starring Kate Winslet, Melissa Leo and Guy Pearce.
Tom Scott
Producer
Tom Scott emerged as an entrepreneur at a young age selling provisions to people stuck in gas lines in the 1970s. When he graduated from Brown, Tom and his college friend created Nantucket Nectars, turning a kitchen concoction into a multimillion-dollar juice enterprise, which was sold to Cadbury Schweppes in 2002. Switching from "juice guy" to "media guy," Tom began Plum TV in 2004 with a group of partners and continues to serve as Chairman. Tom also serves as a partner of NaSA Entertainment – founded in 2008. NaSA's first production, The Neistat Brothers, was sold to HBO and premiered in 2010. Tom has also executive produced Daddy Longlegs which was selected to compete at the Cannes Film Festival in May of 2009 and at the Sundance Film Festival in 2010. Tom serves on the Board of Directors for several companies and is committed to many community organizations including DoSomething. He currently lives in Connecticut with his wife, Emily, the founder of J. Crew, and their two sons. He is an avid pilot and surfer.
Richard Klug
Director of Photography
Richard Klug is an award-winning cinematographer. In addition to his work for 50 Eggs Films (Lemonade Stories, we are BlackRock and TEN9EIGHT), Richard has shot commercials for Gillette, ESPN, Hummer, McDonald's, Hewlett-Packard, Volkswagen and Ocean Spray. His work has won Gold awards at the One Show, Communication Arts, the Telly Awards, the International Film & TV Festival of New York, Boston's Hatch Awards, Hugo, Cindy and Cine Golden Eagle festivals as well as Minneapolis' The Show. Richard lives in Wellesley, Massachusetts with his wife, Kate. They have two sons, Nate and Sam.
Richard Schultz
Still Photographer
Richard Schultz has been shooting professionally for almost 20 years and has worked on various projects all over the world for National Geographic, Time, Sports Illustrated, Vanity Fair, Fortune as well as for numerous corporate and advertising clients. He is a recipient of a World Press Photo Award and has won numerous Addy and Communication Arts awards. He currently lives in Barrington, Rhode Island with his wife and two beautiful boys. www.rschultz.com
Paul Gattuso
Editor
Paul has been editing since his Dad threatened he'd have to join the family business if he didn't get a job soon. So he fled New Jersey for Emerson College, where he found a love for crafting a story from raw footage and big ideas. Paul began his career working for various post houses in Boston and NYC, editing commercials, music videos and cable shows. He opened Paul's Place Editorial in 1993, and quickly gained a reputation for being an expert craftsman by working on national and local advertising campaigns, documentaries and new media projects with clients such as Volkswagen, Nikon and Comcast. His work has earned Paul Hatch Awards, Telly Awards as well as many sleepless nights. www.paulsplaceedit.com
Alex Lasarenko
Composer
Alex Lasarenko, a classically trained pianist who began playing at the age of three, is a New York-based film scorer and sound remixer who has won critical acclaim for his writing and arranging of original music and vocal remixing. Since founding Tonal Sound in New York City in 2002, Alex has collaborated on a wide range of projects with advertisers, network television, motion pictures, record labels and designers, recently remixing hits for Britney Spears, Jordin Sparks, David Archuleta and R. Kelly. He has scored numerous films starring Stockard Channing, Julia Stiles, Mary Louise Parker and Danny Aiello. Alex has been honored with numerous industry awards for best original music for clients including Audi, Levi's, Nike, Mercedes Benz, National Geographic, HBO and Volkswagen. Under his hand, Tonal has won awards for its work with HBO, Paramount Studios and The Disney Channel. www.tonalsound.com
NARRATED BY
Edward Norton
FEATURING
Jake, Boris, and Eugenia
Gloria and Jessica
Sarahi and Philip
Hassan, Bardo, Shaheen, Ezzine
Elana, Alfonso, Kamrul, Shahid
Patricia and Charlie, Juan
Jeff Aldana and Esau Aldana
James Lee
Dr. Thomas Farley, NYC Health Commissioner
Ben Thomases, former NYC Food Policy Coordinator
Christine C. Quinn, NYC City Council Speaker
John C. Liu, NYC Comptroller
Professor Julio DeCastro, Babson College
Professor Mitchell Duneier, Princeton University
Pete Napolitano (NBC's "Produce Pete")
Elliott Marcus, Associate NYC Health Commissioner
Cathy Nonas, Director of Physical Activity and Nutrition Programs – NYC
Joel Berg, NYC Coalition Against Hunger
Dr. Bill Jordan, Montefiore Hospital
Karen Karp, Karp Resources
Rafael Samanez, Vamos Unidos
Renee Shanker, Montefiore Hospital
PRODUCTION CREW
Line Producer:
Amy Brown
Additional Cinematography:
Mia Barker
Richard Schultz
Rob Saffi
Assistant Camerapersons:
Damon Lemay
Jill Tufts
Sound Recordists:
John Zecca
Mark Mandler
Rudy Prezeau
Brian Miklas
Mario Cardenas
Gaffers:
Joshua Schneiderman
Ken Perham
Justin Martin
Grip:
Dennis Gomez
Hair and Make Up:
Krystle Poulin
Location Scout:
Mark Bodnar
Production Assistants:
Oscar Boyson
Matt Davies
Laura Foley
Kim Gentile
Jamaal Kendall
Bri Lerose
Ryan Morgan
Gabe Munitz-Alessio
Evan Reinhard
Ali Schmidt
Dylan Steinberg
Hannah Thonet
Mary Pat Wixted
Researchers:
Alex Azzi
Tsahay Burton
Jack Coyne
Kathy Diaz
Moses Eduard
Laura Foley
Matt Gleason
Rahfael Gordon
Andrew Gross
Amy Hollis
Nicholas Kokkinis
Bri Lerose
Leah Serinsky
Hannah Thonet
Megan Turchi
Mary Pat Wixted
Translators:
Mahsooma Abbas
Amit Ashraf
Rafiq Chowdhury
Adnane Ettayebi
Cassandra Flechsig
Gloria Hollingworth
Dennis Gomez
Mohamed Mahmoud
Laura Athena Matilsky
Emanuel Orji
Magarida Perez
Juan Ramirez
Nagendra Rao
Juan Salvati
Ahmed Zihan
BLI Translations
POST PRODUCTION
Colorist:
Rob Bessette
Online Editor:
Tim Montgomery
Animation:
Marc Dole and Hatchling
Sound Engineer:
Brian McKeever
Graphic Design:
Ann Karash Kimura and the 47th
Narration Engineer:
Scott Cannizzaro
Assistant Editor:
Meg Bailey
Online Facility:
Finish Editorial
Film Processing:
Technicolor
Film Dailies:
Rob Bessette
Editorial:
Paul's Place
Music Mix and Mastering:
Warren Wolfson
David Little
and Tonal
Sound Mix Facility:
The Soundtrack Group
Legal Services:
Paul Hartnett, Esquire
Accounting Services:
Randy Rogers
Footage Clearances:
Sam Connelly
Music Clearances:
Jeanne Fay
Public Relations:
Gia Storms
Ben Branham
and Edelman
Marketing:
Elizabeth Kirk
Transcriptions:
Cambridge Transcriptions
Assistant to the Director:
Mary Pat Wixted
SPECIAL THANKS TO:
Susan Craig, Celina De Leon, and the NYC Department of Health
Gail Nayowith and Rick Luftglass
Stephen Sheppard
Bob Epstein
Kitty Boone, Jen Bokoff, Emily Grillo
Professor Emeritus Tom McCraw, Harvard Business School
Professor Pyong Gap Min, Queens College
Karen Karp and Cassandra Flechsig
Bob Lewis, NYS Department of Agriculture and Markets
Myra Gordon, Matt D'Arrigo, and Hunts Point Terminal
Eileen Manitsas and Baldor Foods
Sabrina Baronberg, Emiko Otsubo, Peggy Leggat
Jennifer March-Joly, Citizen's Committee for Children
Rebecca Flournoy, Policy Link
Geoff DeMoss and Kodak
Amy Blankenship, Lindsey Sutton, and Finish/Soundtrack
Jessica Mates, Food and Finance High School
John McArthur, Harvard Business School
Sam Marks, Deutsche Bank
Jamie McShane and Brian Footer
Cathy Hanson
Len Schlesinger, Shahid Ansari and James Regal, Babson College
Mike Testa, Downtown Crossing Partnership
Margie Sullivan
Jonathan Chodosh and Getty Images
Royce Berkowitz and Tim Davis, Corbis Motion
Jonathan Eaker and the Library of Congress
Jamie and Daisy Mazzio-Manson
"THIS LAND IS YOUR LAND"
Written by Woody Guthrie
Published by Ludlow Music, Inc.
Performed by Sharon Jones & The Dap-Kings
Courtesy of Daptone Records
FOOTAGE and PHOTOS COURTESY OF:
Getty Images
Corbis Motion
Streamline Films, Inc.
Pond5
Library of Congress
New York City Tenement Museum
Family of Jake, Boris and Eugenia
Family of Esau and Jeff
Family of Gloria
Produce Pete
City Council footage provided by The City of New York, Department of Information, Technology and Telecommunications
The Making of…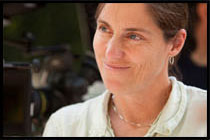 Director Mary Mazzio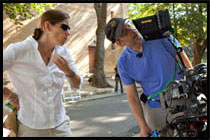 Mazzio and DP Richard Klug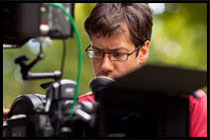 AC Damon LeMay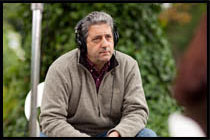 Sound, John Zecca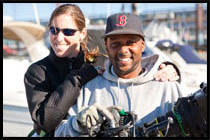 Mazzio with Grip Dennis Gomez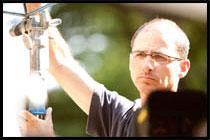 Gaffer Josh Schneiderman

DP Richard Klug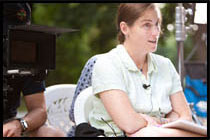 Mary Mazzio